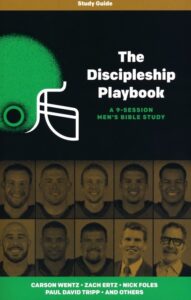 Facilitators: Daniel Sick
Location: Room 103 (North Entrance)
Time: Wednesdays | 6:30 – 8:00 pm
Target group: Any men interested
Professional football players enjoy fame, money, and a lifestyle that most men only dream about. But some live with a radically different purpose – to become mature disciples of Jesus Christ. In this nine-session video Bible study, you will learn what it means to live as a true disciple.
Carson Wentz, Zach Ertz, Nick Foles and their teammates share their testimonies with pastor and best-selling author Dr. Paul David Tripp providing biblical teaching.