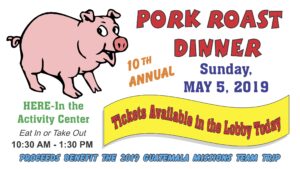 The 10th Annual Pork Roast Dinner will be held on Sunday, May 5, 2019. You can pick up tickets in the lobby or sign up using the below form.
Tickets are by donation. The proceeds benefit the 2019 Guatemala Missions Team Trip.
Eat in or Take Out in the Activity Center.
Sign up deadline: April 28, 2019