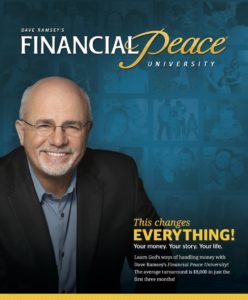 Facilitators: Daniel Sick, John & Stephanie Huber
Location: Room 18
Time: Sundays | 8:45 – 10:15 am
Target group: Any.
Financial Peace University is a life-changing 9-week program that takes the knowledge of the Bible and turns it into real action in our lives through a simple step-by-step process. The program includes practical lessons to eliminate debt, build wealth, give like never before, and much more!
Cost for material and access to online tools: $129.