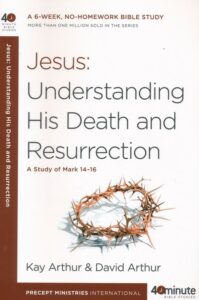 Facilitators: Carol Mylin & Joan Miller
Location: Welcome Center
Time: Wednesdays | 6:30 – 8:00 pm
Target group: Any women interested
The Messiah had finally arrived–only to be betrayed and sentenced to death. Why would Jesus, who held the power of heaven at His command, submit to being humiliated, tortured, and ultimately killed? This study of Mark 14-16 by Kay and David Arthur is an easy intro to inductive study. 6 sessions, no homework.