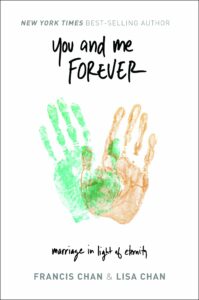 Facilitators: Curt & Jen Umble, Doug & Karen Umble, John & Joyce Wagner, Jay & Carol Mylin
Location: Room #225
Time: Sundays | 9:00 – 10:00 am
Marriage is great, but it's not forever. It's until death do us part. Then come eternal rewards or regrets depending on how we spent our lives. In his latest book, Francis Chan joins together with his wife Lisa to address the question many couples wonder at the altar: "How do I have a healthy marriage?" – You and Me Forever: Marriage in Light of Eternity will radically shift the way we see one of the most important relationships in our life.