New Space Dedication & Celebration!
Celebrate with us!
17,500 sf of new space & 1,500 sf playground
The dust has settled, the paint has dried. Our new space is completed! We look forward to beginning our fall classes in more secure, more spacious, and more accessible rooms.
Security This upgrade allows our Children's Ministries to function and operate in a more fully secured facility.
Capacity This provides much-needed space for the 200 children who regularly attend Sunday School, 120 who attend Wednesday night Quest, more than 150 Preschool students and the many Sunday and mid-week Faith Formation gatherings.
Accessibility This doubles our number of handicap parking spaces and features our first push-button door opening system for our new South Entrance.
May all that is done within these walls be to the honor and glory of God. May all who enter this building sense Your presence, power, Your forgiveness, healing, and love. Father, as our church family (and especially our children) gather in these spaces week after week:  Fill us with Your Spirit, form us to become more and more like Jesus, and send us as we go out to love and serve our community and our world.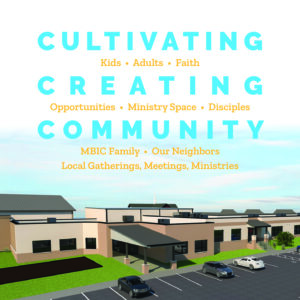 Anyone who listens to my teaching and follows it is wise, like a person who builds a house on solid rock. Though the rain comes in torrents and the floodwaters rise and the winds beat against that house, it won't collapse because it is built on bedrock.  Matthew 7:24-25

Your Generosity supports MBIC's ministry efforts!
Reaching our Capital Fund Goal of $800,000 in 2019 puts our congregation on track to pay off construction costs from the 2010 and 2019 expansions by end of 2024.
Updates
Check back periodically to keep updated with our progress.